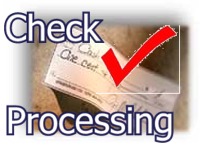 System Configuration

ISI Check Processing operates in the Microsoft Dynamics GP environment. Typically, a Microsoft Dynamics GP networked system includes a server and one or more workstations as specified in the Microsoft Dynamics GP installation manuals.
The ISI Check Processing software must be installed on each workstation that will be processing checks. This configuration increases speed and efficiency of connection time and processing.
Workstation Requirements

Following are requirements to install ISI Check Processing:
o Software on a networked system as required by
Microsoft Dynamics GP.
o Complete setup in Microsoft Dynamics GP of Company
Setup and Receivables Management.
Electronic Check Processing
Integrates with Microsoft Dynamics 
GP SOP and Cash Receipts.
Features and Benefits

o Reduce processing costs.
o Reduce billing costs.
o Receive deposits sooner.
o Options for using a single merchant account or multiple merchant accounts.
Versions
ISI Check Processing is available for all current versions of Microsoft Dynamics GP.
Installing the ISI Workstation Software

The ISI Workstation Installation disk contains the software necessary to process check transactions on a Microsoft Dynamics GP workstation. The software is contained in a "chunk" file that is recognized by Microsoft Dynamics GP as a third-party dictionary.

Check Processing Security Setup

Only authorized users can access ISI Check Processing. A single user or User Class can be given privileges to ISI Check Processing Windows.